Network layout
Network layout, requirements, and storage considerations
e3Vision network layouts
e3Vision can be set up in a variety of network layouts to best suit your organization and lab experiment needs.
Choose a system layout below to see if it's the right fit for you:
Requirements and considerations
Host computer
Watchtower software will run on any Windows 7-10, MacOS, or Linux system. It takes very little resources to run and can be run on small HTPCs like Intel NUCs, or even older hardware or laptops. However, please consider your specific recording setup to determine the necessary storage and storage speed requirements.
Network
e3Vision cameras compress the video on-board, and transmit the video to Watchtower. As a result, the bandwidth required to stream from a large number of cameras is significantly reduced compared to uncompressed machine vision cameras or webcams.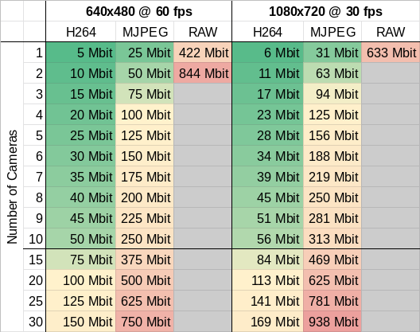 Storage
A large number of cameras translates to lots of storage, ranging from 5 - 500GB / camera / day. H264 compressed video can range from 0.2GB-5GB/camera/hr, MJPEG video 2.5 - 20GB/camera/hr, depending on settings, amount of movement, and amount of detail.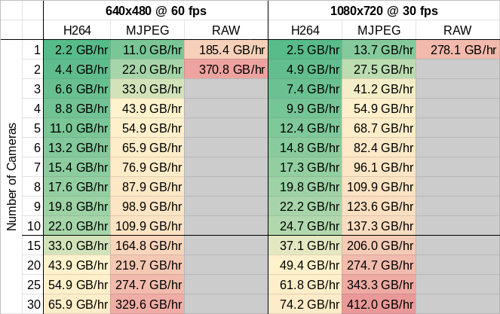 Storage speed
Storage speed may require specific planning after a certain number of cameras. Around 45 MB/s (160GB/hr, or 3.8 TB/day) write throughput, fast SSDs may be required instead of spinning hard drives. Around 250MB/s (900GB/hr, 21 TB/day) NVMe SSDs may be required in order to save the required amount of video stream data. Additional possibilities include USB3 or 10Gbe based storage arrays. Avoid running programs that do lots of disk access during capture.
---
Last modified July 1, 2020